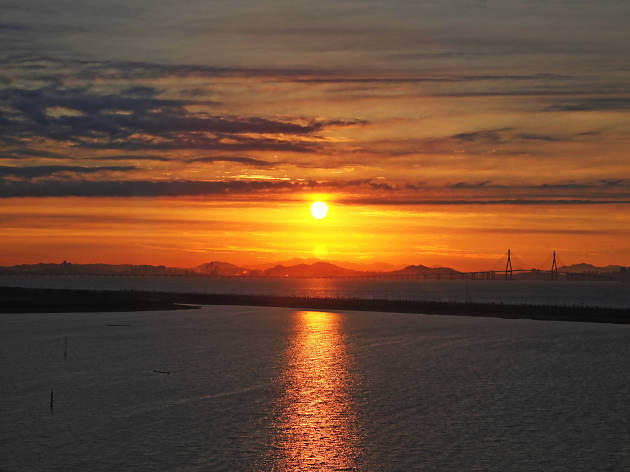 Dear Reader:
As you can imagine the transition from typing on a regular keyboard (on a desk top computer) to learning all the 'in's and out's' of a chrome book has been challenging. It has left me sleepless on a few nights recently. It is hard to turn off your mind when it is trying to absorb so many new procedures that now feel alien to one's memory and fingertips.
Everyone has a helpful hint or piece of advice, which has helped me along and along… with some creative endeavors implemented to use as transitional tools until everything feels more comfortable.
As I lay awake at night or early in the morning hours just before dawn…I reassure myself that once the sun comes up…nothing will seem as menacing…and my perspective on this tech transition will morph into more realistic observations.
Yesterday morning my neurons lit up as I remembered a beautiful story about the importance of the guarantee of sunrise each morning. It originates from a story by Archibald Rutledge, once owner of Hampton Plantation, who never forgot this true incident in his life.
"It Will be Daybreak Soon"
Sam Singleton was a boatman at Hampton Plantation and a friend of Archibald Rutledge…both of whom shared a love for nature and hunting. Since Sam was the expert on the plantation when it came to the river and boating…he would usually accompany Rutledge on duck hunting expeditions.
This particular time Rutledge and Singleton left home in the middle of the night to paddle down the Santee River to a place called "Tranquility" since "it is as solitary as being in the heart of a wild delta can make it." They thought they had started at a time which would make their arrival
coincide with the first early morning flight and hunt. But things didn't go the way they expected….as Rutledge continues his tale.
"A southern river at night can be a haunting thing, with great stars hanging like spangles in dark pines and the ancient water oaks fringing the river shores. Baffling to navigate by broad daylight, the Santee at night is mysterious. The perils of the situation was heightened by the craft in which we were traveling."
"A dugout cypress canoe… it had a certain tendency to roll as had its parent log, utterly lacking the virtue of stability that one relishes in a boat…especially when voyaging through the darkness of a hugh river that seems to be wandering toward eternity."
"The stars that had been shining when we left home were soon obscured by a fog so dense that we could hardly see beyond the bow of our little canoe. Suddenly there was no land visible and the waves that began to roll our canoe were suspiciously like sea waves. The roar of the surf that we had heard for a long time now became almost deafening."
"The fact that the tide had now turned, or was about to, confused us still further. The canoe shipped water, gallons of it. The mist blinded us. There was no use avoiding the truth: we were in some serious danger. I told Sam mildly that in case the canoe was swamped we must turn it over and cling to it. How can I ever forget what he said?"
"Never mind, Cap'n," the humble boatman told me: "It will be daybreak soon."
"What was there in the plight that night on which we could certainly count? Only one thing there was; the coming of light-daybreak, sunrise! It came in time to save us, though we were really on the brink of the sea when the rosy radiance over the delta disclosed our position to us. "
"Yet the real lesson didn't escape me; It was Sam's reminding me that it was SURE to come, restoring thus my courage!"
"And even now, after all these years, whenever the shadows are deepest and most impenetrable, I seem to hear, out of the dim celestial past, the quiet voice of Sam Singleton saying to my doubting and beseiged heart, "Never mind,Capt'n; it will be daybreak soon."
………………………………………….
So until tomorrow…isn't it wonderful that we mere mortals, while undergoing difficult transitions, can count on certainty in one area of our lives…our faith…that each day the sun will rise and each evening it will set. How comforting that certainty is… especially while paddling in one's new murky waters. Thank you God.
* And thank all of you for your votes of confidence, humor, empathy, and spiritual comments….Dee added her unique perspective on the situation saying: "I've always agreed with you that a "little c" IS indeed how a malignancy should be referenced. *(No respect should be shown for such an unworthy oppressor)
In my life, I choose the "Capital C" in referencing my AGED Computer which is and has been "hanging on by a thread." *(For your sake Dee…I pray that thread lasts forever.! ( )
"Today is my favorite day" Winnie the Pooh
*While I have been somewhat "stunted" in tech growth…my garden has been profusely growing in happiness!